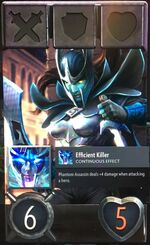 Artifact 2.0 is coming soon!
Artifact is currently being

re-developed

and some of following information may or may not still be relevant.
These pages will be updated as more information is released by Valve.
The gameplay of Artifact: The Dota Card Game takes place on a variety of cards.
There are a variety of card types,
Colors
[
]
To play a card of a certain color, you must control a hero of that color in that lane.
Rarity
[
]
There are four different rarities of cards in Artifact - three of which are collectible,
Basic

Basic Cards form all noncollectable cards in Artifact, and are required to play the game. They are granted on purchase.

Common

Uncommon

Rare

You are guaranteed at least one Rare per Booster Pack.
Every card in a booster pack has a chance to be a Rare card.
How do I earn cards?
[
]
Artifact's economy is mostly pay to play. Packs can be purchased with Steam Wallet currency, and singles can be bought and sold on the Steam Community Market. Your opening purchase will grant game access, 10 Booster Packs and 2 Starter Decks of 54 cards each.
Card packs can also be rewarded for winning Expert Gauntlets that have an entry cost. Among these Gauntlets, a Keeper Draft mode allows you to keep the cards you drafted for this game mode at the cost of five card packs on top of the entry fee.
Card Stats
[
]
| Stat | Count |
| --- | --- |
| Current Number of Cards | 310 |
| Rare | 77 |
| Uncommon | 78 |
| Common | 82 |
| Basic | 73 |
Known Card List
[
]