Sniper
Sniper
v - e
Details

Color:

Black

Type:

Hero

Attack:

5

Health:

6

Rarity:

Uncommon

Illustrator:

Forrest Imel
Text

Headshot

Active 3:

Deal 5 damage to a unit.
Sniper is a uncommon

Black Hero card.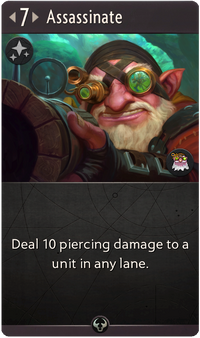 ▶️
For too long the Keenfolk have been fractured. Little colonies speard accross the world each coveting their own research... but as we kept to our workshops the world around us changed. Stonehall rose to power. The nation of Revtel was born. The Quorum of Weeping Rose grew bolder... and what did we do? We toiled and tinkered. We built wondrous machines and used them for petty tasks. This cannot continue. The Keenfolk clans need to unite, and show the world what we're capable of.
Gallery